Yes I'm a Female Watchmaker, Why Not?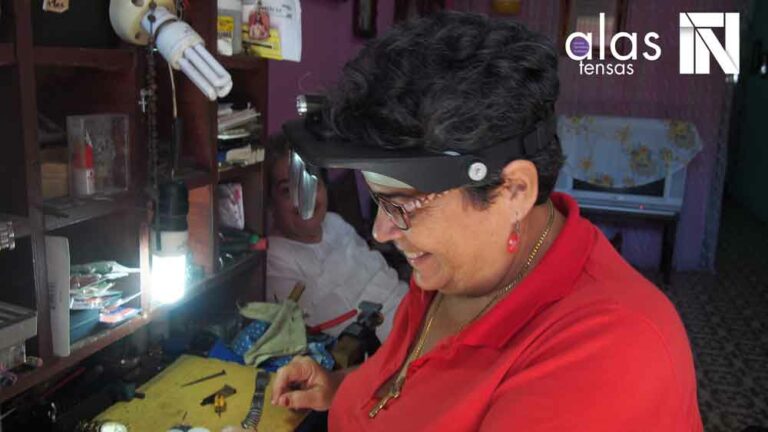 It's no easy task to fix something here in Cuba. You know you can't throw anything out because you might need it tomorrow. As days pass by, the spare room or junk drawer fills up. Until the time comes when necessity drives you to try and get something fixed, even though you'll lose the whole day trying to do this.
There is a sign on Libertad Street, one of the main streets in Ciego de Avila, and it reads: "Female Watchmaker". Yes, female watchmaker, not a male watchmaker, like people say if you ask them for directions. Six women are in line: the majority of her clients are women. Maria del Carmen, the owner of the watchmaker's workshop, believes that this is because it's up to women to go out and get watches, reading glasses, shoes… fixed and maybe also because men don't really trust the fact that women can hold jobs that were traditionally attributed to men.
Maria del Carmen has a deep voice and large hands. Classical music plays in the background while she works. She is one of the over 150,000 self-employed women in Cuba. According to the Federation of Cuban Women (FMC), one out of every three independent laborers in Cuba are women, although it's estimated (because there aren't any official statistics) that very few of these are the actual owners of the businesses they run.
Maria del Carmen is now on the other side of 50 years old, she has been a watchmaker for less than three years. Her cousin Idalia was there before and taught her the tricks of the trade. She entered this world with Idalia and she liked it so much that she believes that she has surpassed her teacher: "Idalia was my teacher, I followed in her footsteps and now I have more customers than she does."
Being a watchmaker and a woman isn't a very common thing. That's not the tradition. Here, many people say it's strange and always ask when the real watchmaker (a man) is coming. Maria del Carmen loves her job: "I'm passionate about it". It allows her to make a living; not very much, but it gets her by. Her problem is assuring she can do the repairs as material shortages of the pieces she needs really slow down her work. She needs to look for parts, find a supplier, someone who dedicates themselves to traveling and bringing her the raw materials she needs, because sometimes, nowhere sells them here in Cuba.
That's her biggest setback, she loses a lot of time over it. Although, judging by the quality of the service she provides, it seems that she hasn't had too much of a problem up until today and she's always had customers. She works until 1 PM in the afternoon: "sometimes it's time to go and I find myself forced to tell people who are waiting to come tomorrow because I have to close shop."
She isn't teaching any other women her trade. Up until now, noone: "my niece was my next-in-line and she left, she left this country like so many do." I would love to teach other women.
And what about taxes? "I'm on the lower tax bracket, that is to say, the one where you don't have to pay 10%." She doesn't pay social security because she works for the State as a consultant at the ANEC (National Association of Economists and Accountants), where she earns an income and provides economic consultancy services. She has a degree in Accounting and Finances, as well as a degree in Chemistry. She learned watchmaking on the side.
She would like more women to do jobs that men dominate: "Of course, why not? So they can defend our sex, seeing as they criticize us so much, and then they'd be able to see that we are capable of doing anything they can." Apparently, there isn't any discrimination, but yes there is, a lot of it: "I have experienced this firsthand." Thinking that a woman can't be a good watchmaker is also discrimination. Blatant discrimination because there are good watchmakers who are women out there and they are even better than many men.
Maria has been told she is. You have to watch how women dedicate themselves in this profession, paying attention to every little detail. The skill women have for facing every task with so much patience, investing so much love, helps them greatly as watchmakers. We pay a lot of attention to details. We think in the long-term: "Look, these two watches are ready, but this one is can't be fixed, it got wet and the whole mechanism has rusted. Anyway, don't throw it out. You know very well we can't throw anything out. Plus, it's very beautiful and you might be able to put in a mechanism from another watch that isn't as beautiful."
Translation: Circles Robinson.